What a past few months, what a year, and what a decade. Before we get a head of ourselves, I just wanted to fill everyone in with what I have been up to since I last reported in at the beginning of the semester in October. To make a short story shorter: School. November and December are the core of the fall semester and so I have been busily working away at my studies. Through, currently I am on Christmas break.
Last month, November, was quite an exciting month. On the travel weekend that month I had the wonderful opportunity to visit Dublin. I quite enjoyed my visit to the city, where we had the opportunity to see a show at the historic Abbey Theater. Upon arriving back in Rome, my Bishop, Vicar General, and Vocation Director all arrived in town for the bishop's Ad Limina visit. Ad Limina visits are regular (every 5-7 years) visits that every bishop in the world make to Rome to prayer at the major churches and visit the Pope. Bishop Checchio's visit happened to be during Thanksgiving week. It was great blessing to have so many people from the diocese in town for the holiday to make it feel a bit more like home.
It was also a great time of fraternity with priests in town and the bishop. On Thanksgiving morning, the Bishop had a meeting with the Holy Father, which he brought us all along to see if we could get in. And would you know it, we got in. Here's a picture as proof: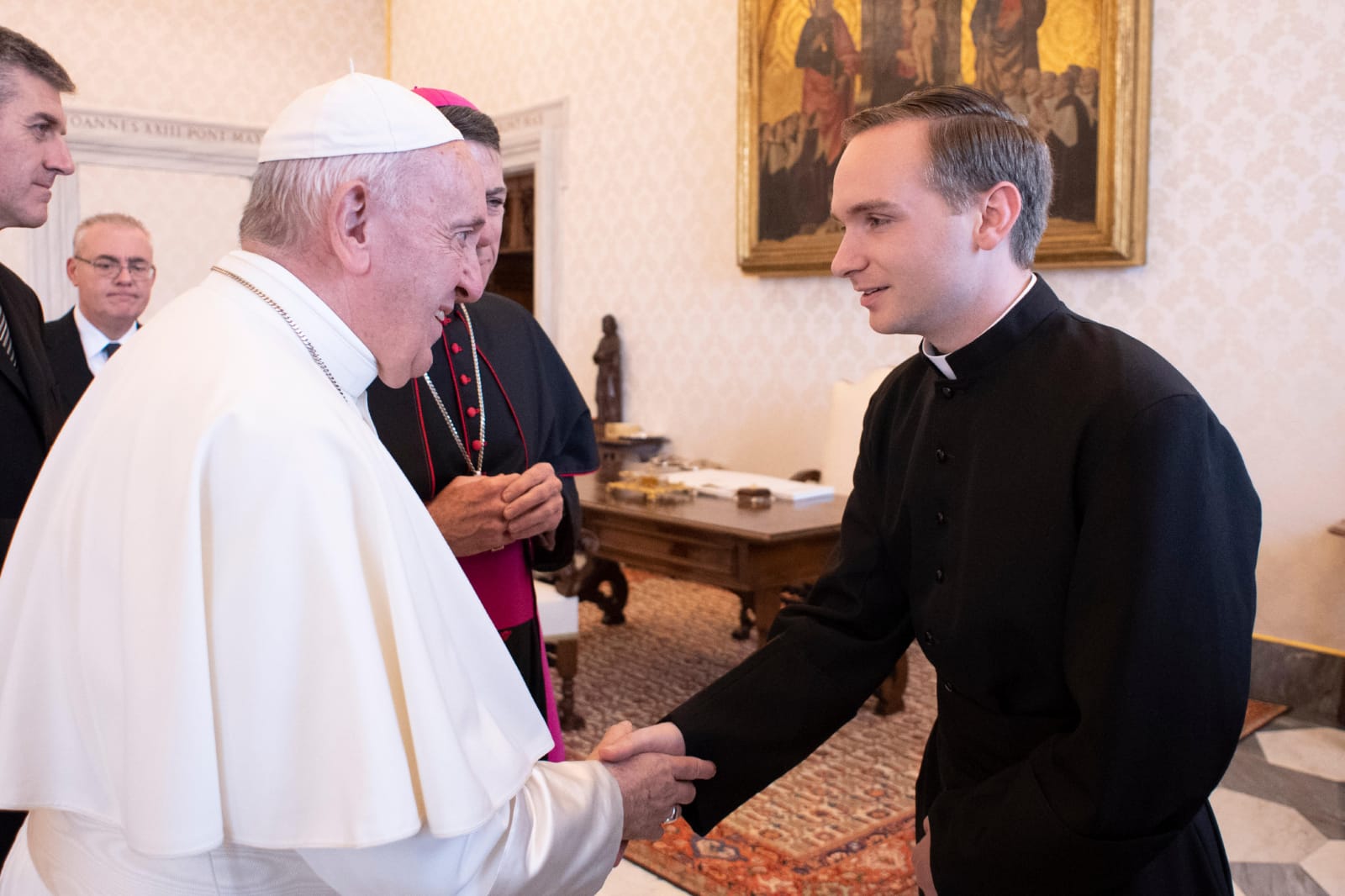 You can see a few more pictures here. As we were going to the Papal Palace, I was thinking about what I might say. So, what did I say? Good morning in Italian, probably too quiet to hear.
This month (December) was exciting in different ways, it's hard to match meeting the Pope after all. The big achievement was I finally finished a stenciling project I've been working on since October.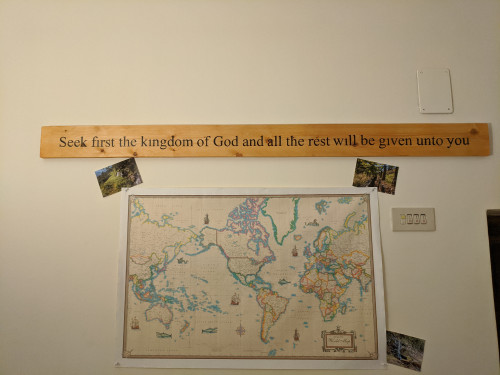 On my retreat at the beginning of the school year this verse, "Seek first the kingdom of God, and all the rest will be given unto you" had a prominent place in prayer so I wanted to paint in somewhere in my room. I eventually decided to create a custom stencil and paint the verse on a board of wood that I had stained. Then finally I hung it on my wall above my desk. You can see some of the pictures of the painting process here.
This Christmas, as I noted in my Christmas post, I spent in Prague. After several days relaxing in Prague we flew to Scotland and have been at a little town called Kinghorn. It is right on the sea and across from Edinburgh. You can see my pictures from these trips here. I will be here through New Year's; after which I will head back to Rome before the Fall semester picks up again January 7th. That's right, the Fall semester has yet to end. I have about two more weeks of classes after break until finals.
With that, this year winds up. What a wonderful year it has been. This summer it was a great blessing to return home and being with the people of God in Sts. Philip and James. This semester has been a time of growing excitement for ordination to the Diaconate (God willing) in the upcoming months.
Even more than closing this year, we also close this decade. And truly what an interesting decade it has been personally. A decade ago today I was on Christmas break of my senior year of high school. In June I would graduate from high school and then head off to Virginia Tech in the fall. Once more, a decade later, I find myself on Christmas break of my last year of my STB (Sacred Theology Baccalaureate) studies. In the June I will finish my theology degree and next fall I will start my STL (Sacred Theology License) in Liturgy at the Santa Croce. The more things change the more they stay the same.
Through out the decade I have been in high education in one way or another. If we were to count grade numbers, I would be in 21st grade. For all those grades I have received 2.5 1 degrees. In this time, I have attended three different universities, in two different states and a different country. I have lived in four different states2, two different countries, and have since visited ten countries 3 on four continents 4 .
Most of this has come about by the single greatest and most surprising (to me) change over this past decade. A decade ago I was at my lowest point spiritually and wasn't sure what I believed. Spring of my senior year of high school I made two of the most important decisions in my life. The first was that it was worth the gamble to believe that God existed. 5 This gamble though meant more than a simple assent of intellect but placed demands on how I lived. The second decision was that if I was going to practice my faith at college it was purely because I wanted to, not because anyone else expected it of me.
Taking these two decisions seriously lead to were I am today. Thanks be to God for his continued love and patience with me over these many years. Thanks be to God for all the wonderful opportunities and gifts that I would never have asked for, and yet he has given me. Truly and simply, thanks be to God for love.
This decade was impossible for me to imagine at the start. And how happy I am that the decade didn't happen how I had planned. I can not imagine where the Lord will bring me this next decade and what he plans to bestow upon me. May God continue to bless you all this next year and decade as he has blessed me.
Notes